Is Europe Forex Invest a scam or legit broker?
No, it is not safe to trade with Europe Forex Invest, as it is an offshore company. Europe Forex Invest is a brand owned and operated by Terratech Ltd. Terratech Ltd is located in the Republic of the Marshall Islands.
In fact, Marshall Islands is an offshore zone attracting various firms that for the reason or another escape from the serious regulation or compliance to international service providing. However, in the case of financial investment or trading firms, the company should be a very respected entity, as the statistics show that the majority of non-authorized firms never recovered the sums of investors' investments. Therefore, we always advise avoiding offshore or companies with no license as there are too many frauds around.
About Europe Forex Invest
| | |
| --- | --- |
| 🗺️ Registered in | Marshall Islands |
| 🗺️ Type of License | Offshore License |
| 🛡️ Is Europe Forex Invest safe to trade | No |
| 🗺️ Recommended Licenses | FCA in UK 🇬🇧 & ASIC in Australia 🇦🇺 |
| 🖥 Alternative Broker | FP Markets - licensed by ASIC in Australia |
Europe Forex Invest assists retail and institutional investors in using forex and different contraptions as an asset class and a part of their funding targets. The broker claims to offer the excellent trading platforms with right of entry to low-cost pricing, reliable buying and selling infrastructure, speedy execution and brilliant patron guide.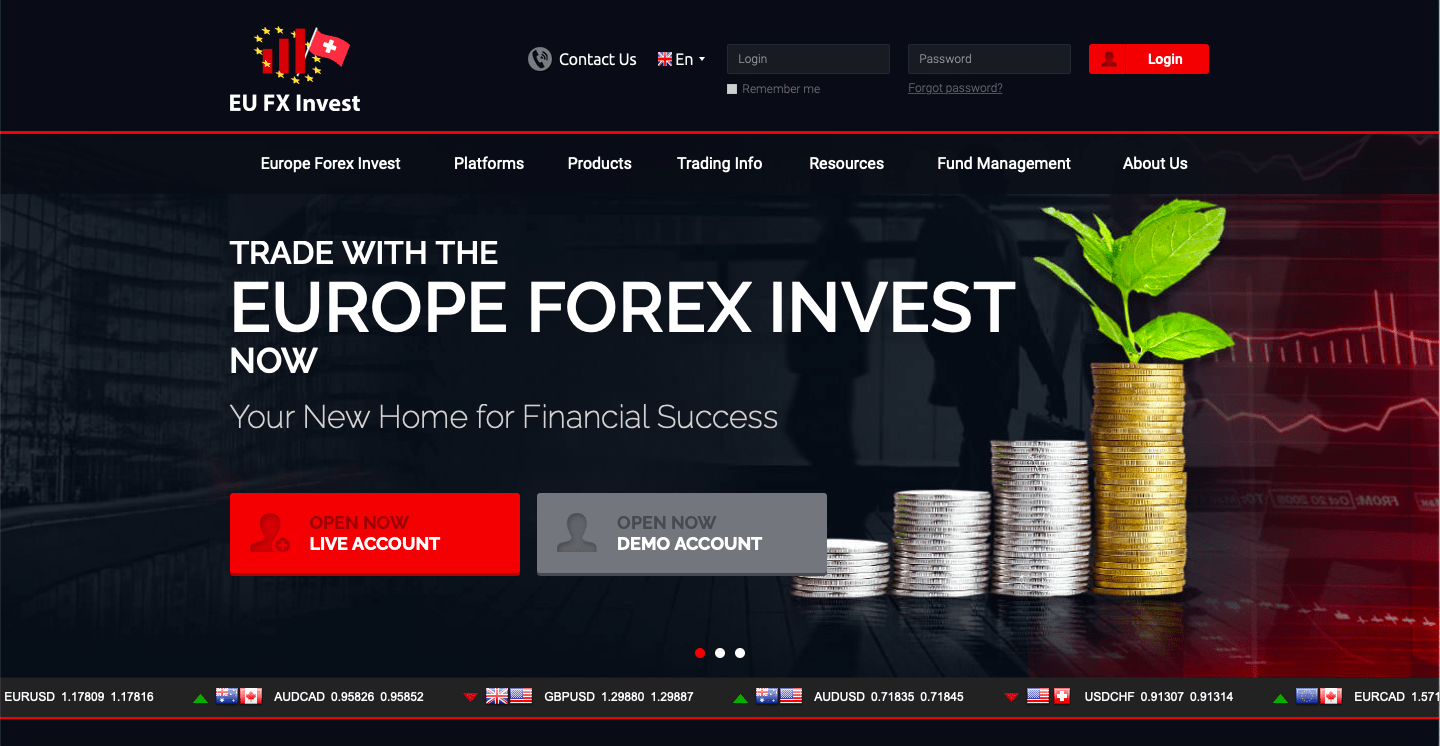 According to the website the broker is primarily based in Melbourne, Australia and has places of work in Dallas, Shanghai, Bangkok and London. Also, the terms and conditions state some other information that the company was incorporated in New Zealand under the International Business Companies. However, we couldn't find any information about this broker in the registers of the major regulators.
Moreover, Italian regulator CONSOB has warned against Europe Forex Invest:
"CONSOB availed itself of the powers deriving from the "growth decree" regarding the blackout of the sites (including Terratech Ltd (website www.eufxinvest.com)) of abusive financial intermediaries, as well as the new power introduced by Law no. 8 of 28 February 2020, regarding the blackout of the site through which the abusive bid is made."
It is the second time that we post about Terratech Ltd. being blacklisted by CONSOB. This company operated a Swissfingroup broker, which we have mentioned as a broker that should be avoided.
The pages and official sources of the international regulators' list alert shared with the authority directly or by other countries' supervisory bodies or transmitted centrally. Those tools and general purpose of the regulatory bodies operate in order to enable stability of the market offerings, protect clients from potential and numerous frauds, enable reliability rules to financial service entities and more. As Europe Forex Invest got no license to operate within the EU and other regulated jurisdictions, the broker was blacklisted and alerted by the EU authority.
Conclusion
We strongly advise all investors and traders to avoid Europe Forex Invest and other brokers from the Marshall Islands. Traders should trade with well-regulated brokers such as UK brokers or brokers in Australia and reliable brokers such as FP Markets and eToro.
You can also share your trading experience with Europe Forex Invest by commenting on this review.
Europe Forex Invest website is no longer active.