Big week ahead for USD thanks to key risk events
Watch out for top US data including CPI & Fed speeches
Looming US government shutdown also on radar
USDInd back within wide range with support at 105.50 and resistance at 107.20
Another major breakout on the horizon?
The incoming US inflation data, speeches from Fed officials and threat of a potential US government shutdown could rock the dollar next week.
Monday, November 13th  
JPY: Japan PPI

GBP: UK Prime Minister Rishi Sunak speech
Tuesday, November 14th  
NZD: New Zealand food prices

EUR: Germany ZEW survey expectations

GBP: UK jobless claims, Bank of England chief economist Huw Pill speech

USD: US October CPI, Fed Vice Chair Philip Jefferson, Chicago Fed President Austan Goolsbee speech

SPX500_m: Home Depot earnings
Wednesday, November 15th
CNH: China retail sales, industrial production

JPY: Japan GDP, industrial production

EUR: EU's autumn economic forecast

GBP: UK CPI

USD: US retail sales, business inventories, PPI, Empire manufacturing
Thursday, November 16th  
AUD: Australia unemployment

JPY: Japan tertiary index, core machine order, trade

USD: US initial jobless claims, industrial production, Fed speak

SPX500_m: Walmart earnings

APEC leaders summit - US President and Chinese President speech
Friday, November 17th
EUR: ECB President Christine Lagarde speech

GBP: Bank of England Deputy Governor Dave Ramsden speech

USD: Fed speak - Chicago Fed President Austan Goolsbee, Boston Fed President Susan, San Francisco Fed President Mary Daly

Deadline for avoiding US government shutdown
Dollar bull returned to the scene this week thanks to hawkish remarks from Fed officials including Jerome Powell.
Looking at the charts, prices are back above the 105.50 level - testing the 50-day SMA as of writing.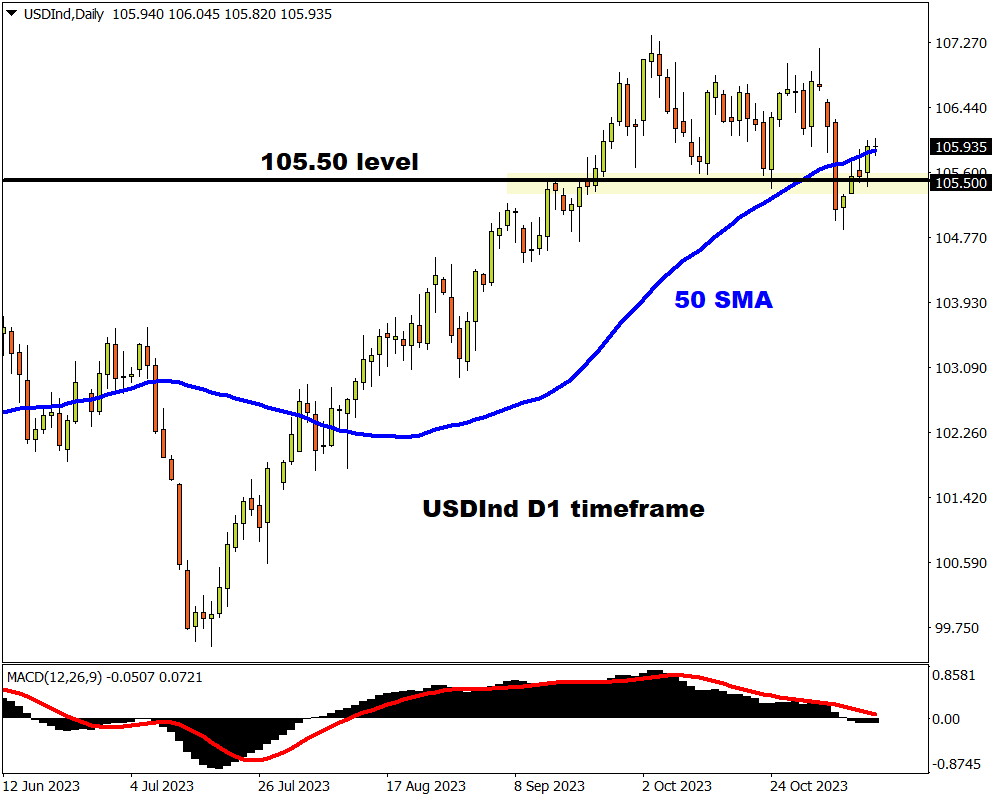 A big move may be brewing for the USDIndex and here are 4 reasons why:
US October CPI Report
The October US Consumer Price Index (CPI) report published on Tuesday; November 14 is likely to influence expectations around what the Fed does beyond 2023.
Markets are forecasting: 
CPI year-on-year (October 2023 vs. October 2022) to cool 3.3% from 3.7% in the prior month.
Core CPI year-on-year to remain unchanged at 4.1%.
CPI month-on-month (October 2023 vs September 2023) to cool 0.1% from 0.4% in the prior month.
Core CPI month-on-month to remain unchanged at 0.3%.
Headline inflation is expected to have cooled due to falling global energy prices, will the annual core inflation unchanged at 4.1% - its lowest level since September 2021. Ultimately, further evidence of cooling inflationary pressures may reinforce the argument around the Fed being done with hikes despite recent hawkish remarks from central bank officials. 
A softer-than-expected US CPI report is likely to send the USDInd lower.

Should the inflation report exceed market forecasts, the USDInd could rise towards the 107.2 resistance.
US data + Fed speeches 
A string of key US economic data and speeches by numerous Fed officials could inject the dollar with more volatility.
Investors will direct their attention towards the latest US retail sales report, Producer Prices Index (PPI), and initial jobless claims among other data releases to gauge the health of the US economy. Speeches from various Fed officials are also likely to be closely combed through for more clues and clarity on the Fed's next move.
Should overall US economic data paint an encouraging picture and Fed speakers strike a hawkish tone, this could keep rate hike hopes alive – boosting the USDInd as a result.

If US economic data disappoints and Fed officials adopt a dovish stance, the USDInd may weaken as bets increase on a Fed pause.
Possible US Government shutdown 
Once again, the United States is facing another government shutdown deadline set to expire on November 17th. The last time this happened was back in September when a last-minute deal was secured before the October 1st deadline.
Should this become reality, sentiment towards the US economy could take a hit with an extended shutdown fuelling US recession fears – impacting Fed hike expectations as a result.
A government shutdown may weigh heavily on the dollar, pulling the USDInd lower.

Should the government strike a deal, this could offer some support to the USDInd.
Technical forces
The USDInd is back within a wide range on the daily charts with support at 105.50 and resistance at 107.20. Prices are trading above the 100 and 200-day SMA but the MACD trades below zero.
Sustained weakness below the 50-day SMA (106.0 level) may encourage a decline back towards 105.50 and 104.90.
A solid breakout above the 50-day SMA could trigger a move towards 106.60 and 107.20.