Tech-heavy index hovers around 15,530 ahead of pivotal US data


 

Stock bulls are hoping for new 2023 high on slowing inflation


 

Key moving averages may offer support on higher-than-expected CPI
The NQ100_m is holding around 15,500 awaiting the release of the latest US inflation data.
This tech-heavy index has "stalled" at the significant price level of 15530, after a 4000-point move in the index on Friday, November 10th.
The 15530 level has served as a key resistance in the past with recent tests in late August and mid-September failing to breach this level.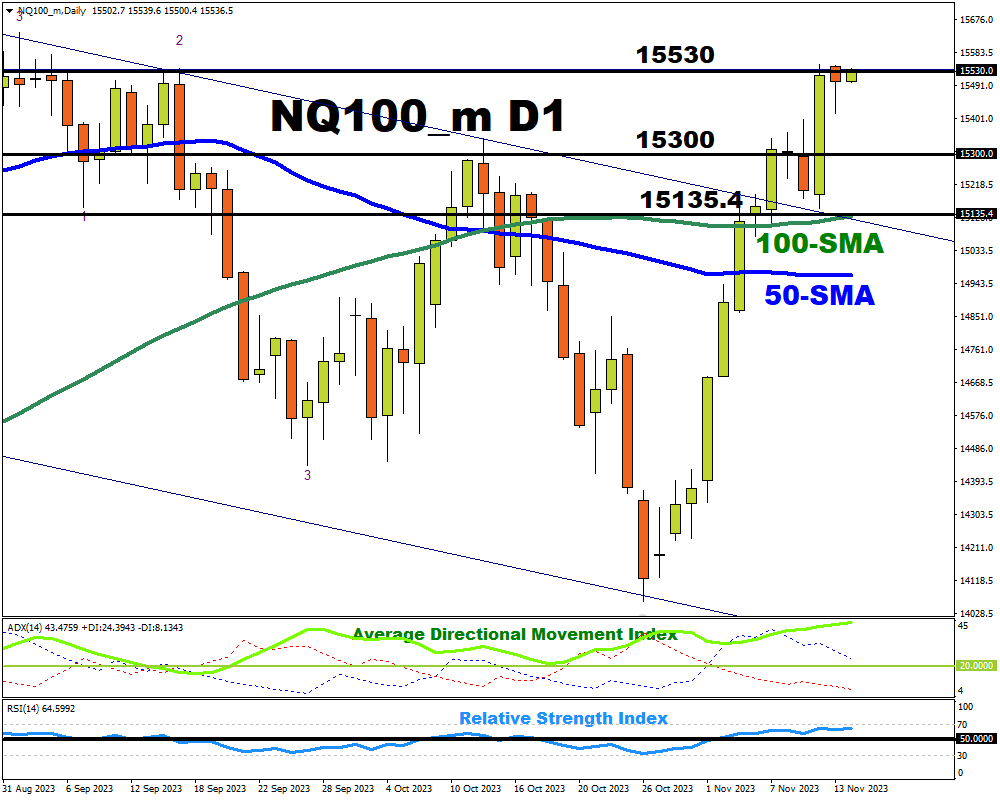 Today's Consumer Price Inflation data (C.P.I) may inject some volatility into the markets
NOTE: CPI measures changes in the prices of goods and services purchased by consumers.
Today's October CPI data out of the US is expected to show:
Headline CPI month-on-month (October 2023 vs. September 2023): 0.1%
(lower than September's 0.4% month-on-month CPI)

 
Headline CPI year-on-year (October 2023 vs. October 2022): 3.3%
(lower than September's 3.7% month-on-month CPI)

 
Core CPI month-on-month: 0.3%
(matching September's 0.3% month-on-month core CPI)

 
Core CPI year-on-year: 4.1%
(matching September's 4.1% year-on-year core CPI)
If US inflation surprises to the upside, this raises the probability of more Fed rate hikes.
With the tech index averse to US rate hikes, this could trigger a decline in NQ100_m to test support around:
15300: a psychologically-important round number
 
15135.4: former resistance of a downward sloping channel, which could act as support; the 100-day simple moving average (SMA) also resides close by
 
50-day simple moving average

 

If November's CPI data comes out lower-than expected, this should encourage NQ100_m bulls to charge on.
On the way upwards, they will have to contend with the following potential resistance levels as they aim for new highs:
15768.8: the 161.8 golden fibonacci level
(The Fibonacci level is drawn from August 14, 2022, high to October 9 2022 low on the weekly time frame)
 
15947.7: the highest year-to-day price reached on August 19th.
In addition, the Average Directional Movement Indicator, (an indicator that shows trend strength) is above the 20-point mid-level, suggesting that the current rally in the NQ100_m is still strong.
This is further confirmed with the Relative Strength Index (RSI) staying above its mid-point level at 50.