Cyprus is a leading financial and Forex trading hub worldwide. Being an EU member state and providing strong economic foundations, Cyprus also has an appealing low corporation tax rate – making it a natural choice for companies looking for solid business opportunities throughout Europe.
Forex Trading Platform in Cyprus
Forex trading is legal and regulated in Cyprus, choosing a trading platform that caters to your needs is essential hence is important to find a good reliable broker.
Cyprus-based brokers are eligible to provide their service all around the world, hence many brokers overseas have established entities in Cyprus.
Forex Brokers and Platforms offering their service in Cyprus must be authorized and regulated by CySEC. Read our CySEC article .
Cyprus residents are also able to open accounts under other international entities.
However, we highly recommend choosing only regulated brokers due to the high risk of forex trading.
| Cyprus Trading Pros | Cyprus Trading Cons |
| --- | --- |
| Regulated by CySEC | No higher leverage |
| Good Client Protection and Compensation | Many offshore and unsafe Brokers attract Cyprus traders |
| Cyprus residents can register their accounts almost wiht any Broker overseas | Cyprus Brokers had Negative Reputation previously |
| Cyprus Brokers available for European Traders due to EEA zone | |
| Low restriction on markets | |
| Negative Balance Protrection | |
Cyprus Forex Regulations
As online trading has become increasingly commonplace, the Cypriot government moved swiftly to protect traders from potential volatility by setting regulations for Forex and Gold brokers. This decisive action ensured suitable conditions in which investors could confidently engage in these high-risk activities.
Forex Brokers must be properly registered and authorized by the Cyprus Securities and Exchange Commission (CySEC) before they can operate in Cyprus or accept Cyprus traders. This critical measure helps protect traders while ensuring that all brokers comply with strict standards of transparency and market integrity.
For further information check CySEC website: cysec.go.cy , also to keep yourself updated follow CySEC's official Twitter @CySEC_official .
CySEC has earned a reputation for its business-friendly regulations, even though some of its operations have been deemed too risky by renowned authorities.
However, to ensure clients are protected, CySEC continuously updates its regulations to keep compliant forex brokers in line and guarantee an ethical trading environment.
CySEC was a relatively new regulator, yet now sharpens its establishment controls over the firms. It is very active in its inspections and application of regulatory terms but remains open to new opportunities and attractive trading conditions.
Moreover, historically Cyprus took a path to be open for international businesses and is extremely welcoming for Forex business, check more historical breakdowns throughWikipedia .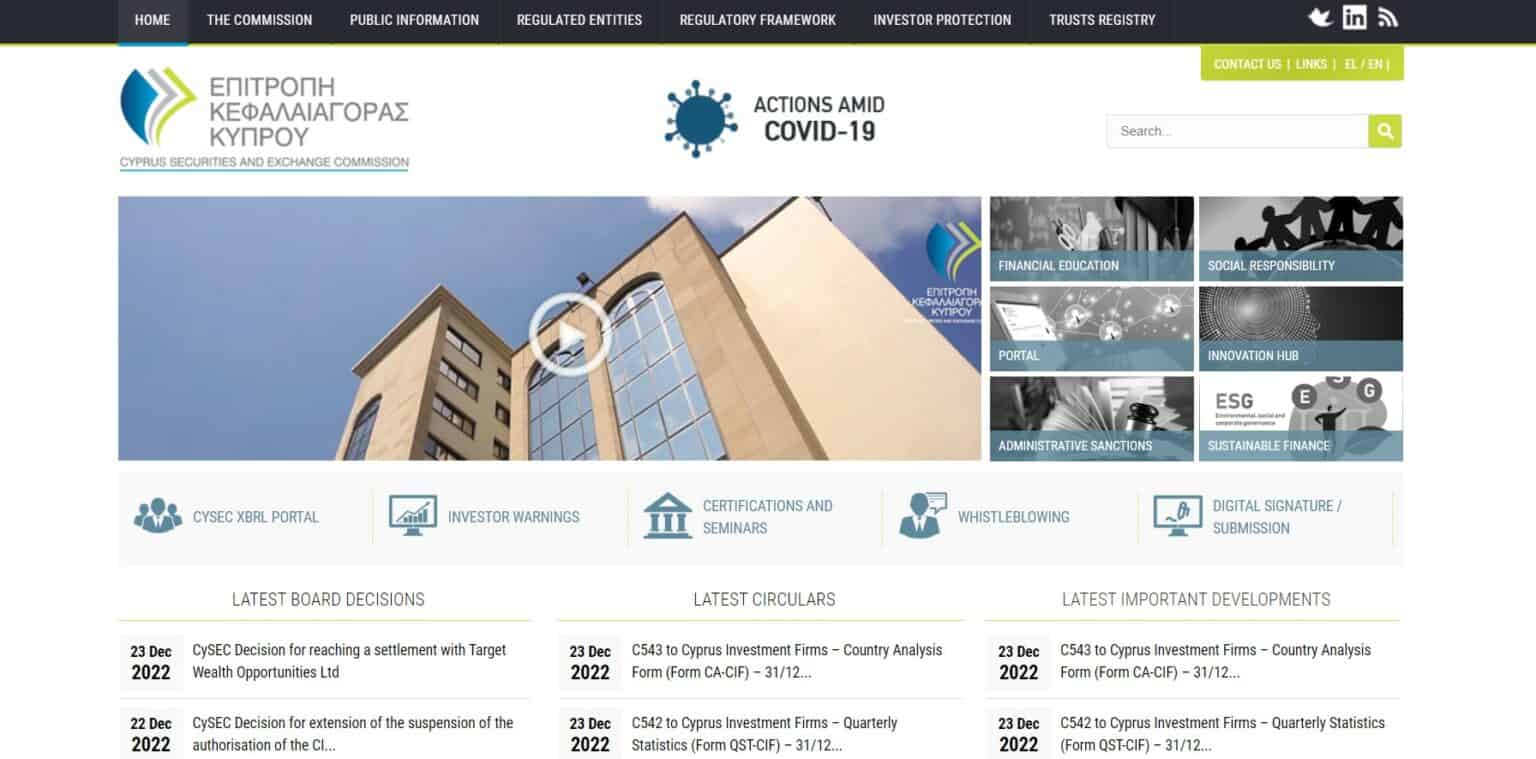 Top 5 Best Forex Brokers Cyprus
Below you will find a listing of the review Best Forex Broker based in Cyprus or Brokers accepting clients from Cyprus. We put together the list according to the specified criteria and its Trust Scores so are highly recommended for trading by our Financial Experts:
Why is Cyprus a Popular Forex?
Cyprus offers easier Brokerage opening conditions with relatively lower costs while being part of the EU and may accept European traders as clients, also there are good regulations and establishments making Cyprus an attractive Forex zone.
Why are forex brokers based in Cyprus?
Cyprus' advantageous tax system, European Union membership and MiFID compliance make it an ideal place for FX companies to launch their operations. Its attractive regulatory setup has made Cyprus highly sought-after in the industry.